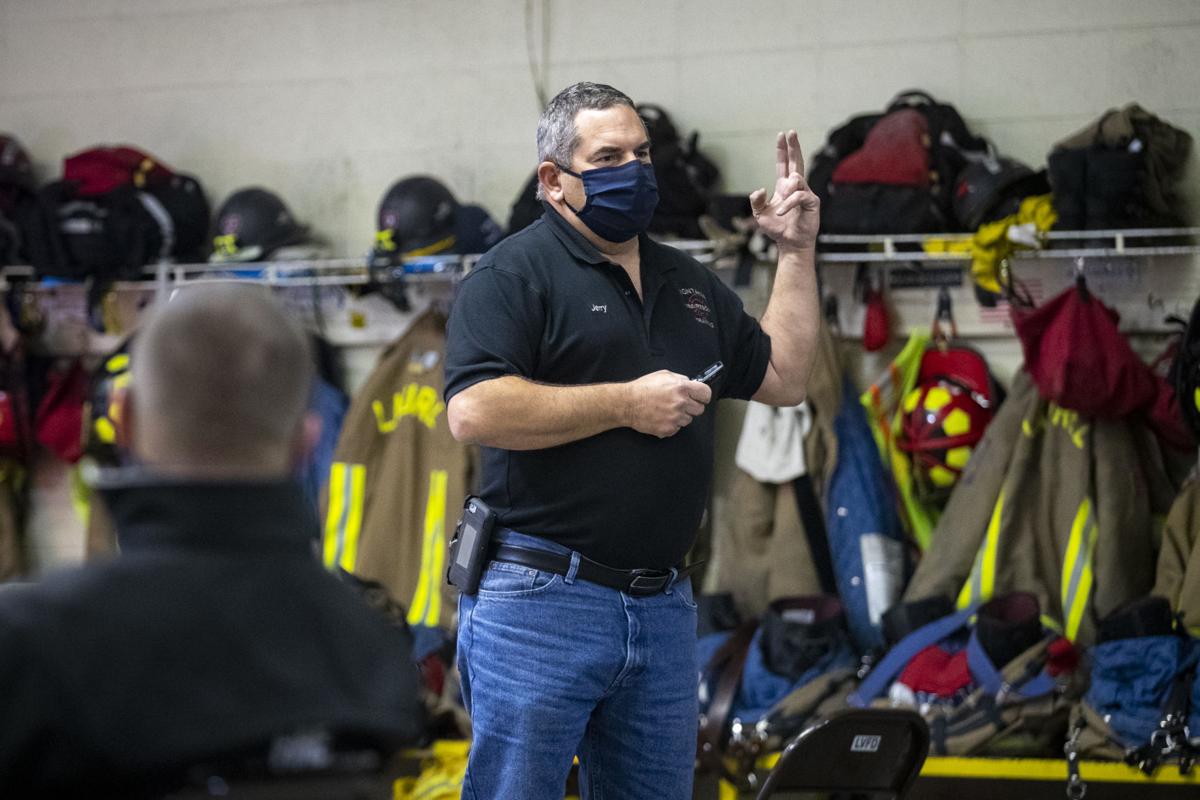 Prete estimated that about 50% of first responders in the state have received the training, including 700 to 850 in this year, despite a three-month period in which no classes took place. He's hopeful that an upcoming "train the trainers" event will create more instructors that can reach more agencies.  Jerry Prete leads a traffic incident management responder training program at the Laurel Volunteer Fire Department in Laurel on Tuesday. The course focuses on what first responders can do to lessen the risk of secondary crashes while responding to incidents on roadways. Some of the basic principles that Prete communicates are the importance of warning the public of an incident up ahead, channeling drivers to a specific spot and taking precautions, in many cases using large fire department trucks, to protect a scene from possible impact by drivers.  Of course, class doesn't always go off without a hitch. A recent training at the Laurel Fire Department was quickly interrupted by a call for service. That's not unheard of when dealing with professionals who can be called out on a moment's notice. Even things like wildfire season can create hurdles for scheduling training classes. Another benefit of the ongoing classes is to build connections for what Prete ultimately hopes can lead to a group of people representing different first responder groups coming together to come up with a plan to enact meaningful change, hopefully through the state legislature.  The specifics of what that change could look like will have to do with the conversations and feedback given, but Prete said he believes more needs to be done beyond strengthening fines for people violating traffic safety laws related to first responders.   One way to build the case for bonuses change is through better data collection. It's not unheard of for a responder vehicle to be damaged while dealing with an incident on one of Montana's roads, but for that incident to never make it into the public eye because no one was hurt or killed.
https://billingsgazette.com/news/local/traffic-incident-management-training-part-of-effort-to-keep-montana-first-responders-safe/article_7c041eea-690c-5761-978e-f23b5c956873.html
Suspects attempt burglary of tools at construction site MADISON, Wis. (WMTV) - Thanks to a good surveillance systems and a speedy police response, duffel bags full of valuable construction tools were not stolen from a construction site in the 1300 block of Fish Hatchery Rd. Sunday, according to the Madison Police Department. MPD says they were contacted around 7:30 p.m. by a construction company employee about a burglary in process. The employee was at home watching from surveillance cameras as at least three suspects reportedly broke into trailers that contained high-valued tools inside the fenced construction site. When officers arrived, MPD says they spotted one suspect trying to escape by jumping a fence. Police took 21-year-old Brandon D. Singleton into custody on a tentative attempted burglary charge. The other suspects got away, MPD reports.
https://www.nbc15.com/2020/11/27/suspects-attempt-robbery-of-tools-at-construction-site/